How collaborative robots are transforming business capabilities, productivity and overheads in ways their traditional industrial counterparts can't. John Thornton reports… 
Robots have been helping to power industry since the early 1960s. The first industrial robots were put to use at US automaker General Motors' manufacturing plant in New Jersey in 1964. Over the next two decades, the technology became safer and smarter at pace and, by the 1980s, fast and accurate robotic arms were being used across a range of global industries. 
However, collaborative robots (cobots) are a relatively recent innovation – it wasn't until 1996 that the idea of the cobot emerged – and it would be another 12 years until one of the first functional cobots showed what the technology was capable of. Now, the sub-sector is on a path of expansion, with the global revenue generated by cobot sales predicted to reach US$7.5bn (£5.9bn) by 2027, up from an estimated US$2.2bn (£1.7bn) in 2023, according to research by Interact Analysis. If this prediction is correct, cobots will account for about 30% of the robot market.  
This is in stark contrast to the industrial robot market, which, according to insight by Interact Analysis, saw just eight percent growth in 2022 – lower than the research company's forecast made at the beginning of that year. This downturn was attributed to a combination of the war in Ukraine and subsequent energy crisis heavily impacting Europe, inflation and supply-chain problems troubling North America, and Covid-19 control measures adversely affecting the Asia Pacific region, especially China, with the manufacturing industry in particular encountering difficulties in production and delivery.  
Seemingly immune to these issues however, 2022 was a banner year for Danish cobot company Universal Robots, which, in January of this year, reported its highest annual revenue to date: US$326m (£261.5m), up five percent on 2021, or 12% if taken on a constant currency basis. But what's behind the surging popularity of cobot technology versus the trusted industrial robot?  
"Traditional industrial robots are typically hazardous, being placed in cages to protect the humans around them," explains Eleanor Watson, AI ethics engineer and AI faculty at Singularity University and member of the IEEE. "Cobots present a new wave of robots that can be trusted to operate in the same environments as humans, due to enhanced safety and reasoning capabilities. The cobot approach, enabled by new technology, allows robots to emerge from their cages into our daily personal and professional lives."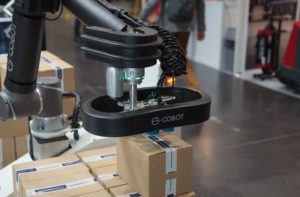 Flexible friend 
While industrial robots have historically excelled at handling large components that are too bulky or heavy for people to lift into place, cobot applications are more varied, including packaging, palletising, machine tending, welding, and quality inspections across multiple industries such as logistics, automotive manufacturing, food and beverage, electronics, hospitality and healthcare. "A cobot can be utilised in hundreds of ways," says Mark Gray, country manager for the UK and Ireland at Universal Robots. "Whether a business is looking to automate a tedious task, increase efficiency or free up their workers to complete more technical work, cobots will be a transformative addition to nearly any operation." 
And when compared with other forms of robotic automation, Gray believes the biggest benefit of using cobots is that they can be installed and deployed much quicker. 
Indeed, with a shorter time from purchase to being used on the factory floor, businesses can reap their benefits more quickly. "It's not unheard of for cobots to be fully operational within the hour and immediately enable productivity in the manufacturing environment," says Umair Ejaz, senior manager at Visual Components, which develops 3D manufacturing simulation software. "This flexibility means cobots can make a tangible impact on cost, employee satisfaction, ROI and health and safety." 
The benefits of cobots are clear and plentiful, but how is the technology evolving to better serve and support end-users? "Cobot technologies are gaining sophisticated control and precision of actuation, enabling them to perform sensitive tasks requiring quick, exacting movement," says Watson. "Such capabilities can make a major difference in medicine. For example, where we today often have a defibrillator somewhere in a shop or public building, we may soon have a cobot capable of taking emergency action instead, providing greater flexibility to handle emergencies before humans can arrive to help." 
Ejaz points also to improvements in sensing technologies over the last few years. "There was greater scepticism for adopting cobots previously as they were less capable of completing tasks to make life easier for humans. Now, there are cobots that can detect the size of different packages so they can be sorted appropriately, which is ideal for e-commerce retailers who ship out items to households.    
Richard Mount, director of sales at Swindon Silicon Systems, a supplier of custom integrated circuit (IC) solutions, concurs. "These cobots are packed with advanced sensor technology that enables them to learn to perform functions with the utmost accuracy, longevity and precision. Cobots that work directly alongside human workers rely on position sensors, which could be employed for a variety of tasks – for instance, a rotary encoder might measure the angle of a robotic arm."  
In the know 
Differences in sensor components isn't the only thing cobot developers and end-users should be aware of, however. There are of number of emerging standards and regulations that need to be considered to ensure cobots are safely and effectively integrated in operations – not least those emanating from the International Organisation for Standardisation (ISO), which provides guidance for the safe implementation of cobots, covering everything from risk assessment to proactive measures and control systems. 
"Currently, the ISO standards are looking to encompass the technical standard on guidance for cobot installation," explains Gray. "This new standard is expected to provide further clarity for end-users on the correct installations of cobots. By following these guidelines, both cobot developers and end-users will reduce the risk of accidents and maximise efficiency." 
Meanwhile, Watson cites the ISO 7001 standard on transparency – which provides guidance on how robots should handle issues such as an onboard event recorder, or what to do when sensors get dirty – as having "taken a leading role among the many standards and certifications". She also stresses that end-users must also be made aware of what she believes are the biggest pitfalls many businesses fall foul of when investing in cobot technology. "At present, cost is probably the largest factor in most domains as robotic systems can be very expensive. There are also ethical issues, such as privacy protection, that need to be overcome."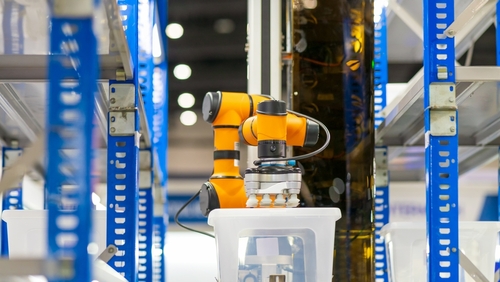 However, Ejaz says organisations should think carefully about the robots they already have in place and how any cobot deployment will work with them, before taking the plunge. "They also need to consider how different cobots will work together. For example, where one is holding an assembly and the other is attaching parts to it, perhaps by turning screws. The programming of both deployments to work in collaboration can become complex. Many organisations believe that simply bringing cobots into the workplace is enough to realise the benefits. But who's going to use them and where will they be applied? And once the cobots are in place, who is responsible for their maintenance and upkeep?"  
People power 
The answer, invariably, involves people – the topic of another major misconception around the technology. "One of the biggest myths is that cobots will replace human labour," says Gray. "In reality, cobots work alongside people, taking on the dull, dirty and dangerous work – allowing workers to focus on tasks better suited to their skills or experience." 
As a result, cobots could even help bolster the human workforce. By automating more physical aspects of certain roles, human workers, who may have more nuanced skills and experience can focus on higher value tasks, in turn addressing the growing labour and skills shortage being experienced globally. For example, a new pension reform will raise the retirement age in France from 62 to 64. While this will have a positive impact on the labour supply in a country where the pool of working-age people has shrunk considerably in the past decade, it also means the manufacturing industry must do more to retain senior workers – especially those over the age of 50 who leave or retire early due to suffering skeletomuscular problems. 
"Human labour will always be the single biggest asset a manufacturer has, and if ongoing recruitment challenges have shown us anything, it's that these employees must be valued more than ever before," says Gray. "Collaborative automation, alongside human talent, can help ease these gaps." 
Meanwhile, in Japan – one of the most robot-dense countries in the world, with almost three times the global average of industrial robots per employee – population trends, industrial changes and the labour environment are all driving cobot uptake. According to the UN's Word Population Prospect forecast, there will be 18.4 million fewer working-age people in Japan by 2023 compared with its population peak in 1995. An aging population means that skilled workers will soon retire, which is reinforced by Japan's younger workforce becoming more fluid and faltering immigration.  
Cobots are expected to help sustain Japan's strong manufacturing sector, which accounts for 20% of the country's GDP, for future generations, but given the technology wasn't introduced into the country until 2012, many Japanese companies are still in the early stages of cobot adoption. "There's still a job to do to raise awareness of cobot technology and some companies lack the confidence to look to this newer type of industrial automation," says Gray.  
What's next? 
Despite the strides made in cobot technology since its global introduction in 2008, their capabilities remain somewhat limited in terms of power, speed and scope. The most powerful cobot on the market today can lift 35kg but, to ensure safety, they have to move at 1.5m/sec. So, what game-changing advancements can be expected in the future? What will cobots be able to do in five or even 10 years that they can't do today? And which industries that have yet to embrace cobotics could be set to benefit from the technology going forward?  
"Where cobots will really provide future value is in the cautious manipulation of products, particularly small or fragile items where care is needed to prevent unintentional damage," says Ejaz. "We're starting to see more cobots with soft grippers attached to carefully move and manipulate delicate food items. Traditional industrial robots were simply not built for such purposes," Ejaz. 
Watson, meanwhile, believes we may soon start to see cobots replacing items on shelves in supermarkets during off-peak hours or when the shop is closed to customers. "The largest impact will likely be replacing semi-skilled human labour such as a kitchen porter, shelf-stacker, or night watchperson, enabling cobots to handle duties that enable humans to go home early and return the next day to a clean, orderly and secure space." 
 This article was first published in the May 2023 issue of Robotics & Innovation. Read the original article.