The October 2022 issue of Robotics & Innovation is now available to read online! Packed full of news, interviews and features, including…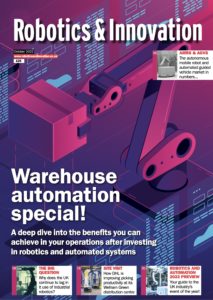 THE BIG QUESTION: Why does the UK lag in its use of industrial robots?
WAREHOUSE AUTOMATION SPECIAL – DHL SITE VISIT: How autonomous mobile robots from Locus Robotics are helping DHL Supply Chain improve picking productivity at Marks and Spencer's national distribution centre in Welham Green…
WAREHOUSE AUTOMATION SPECIAL – MISSION CRITICAL: The latest advancements in robotics are helping e-tailers meet rocketing demand for same- and next-day deliveries…
WAREHOUSE AUTOMATION SPECIAL – TOMORROW'S WORLD: Modern, cutting-edge warehouses require automated solutions that improve storage efficiency, ease labour shortage pressures and drive down energy consumption…
WAREHOUSE AUTOMATION SPECIAL – DEEP IMPACT: Why businesses of all sizes are finally buying into the benefits of robotics and automation…
ROBOTICS AND AUTOMATION 2022 PREVIEW: The ultimate guide to the UK's largest and most anticipated exhibition dedicated to robotics and automation technologies!