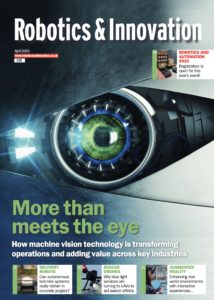 The April 2022 issue of Robotics & Innovation is now available to read online! Packed full of news, interviews and features, including…
COVER STORY: How machine vision technology is transforming operations and adding value across key industries…
DELIVERY ROBOTS: Why standardisation and regulation is critical to the success of self-driving last-mile systems…
RESCUE DRONES: Search and rescue teams from across the UK share the high and lows of using UAVs…
AUGMENTED REALITY: From improving efficiency and cutting costs to enhancing training efficacy and worker collaboration, AR appears to be an intralogistics winner…
WAREHOUSE AUTOMATION: If automated warehouses are the future, what does that mean for human workers?
AUTOMATION INVESTMENT: Some big firms are investing in automation but smaller ones still need convincing. Robotics & Innovation asks what benefits would persuade them to dive straight in?