Ursula O'Sullivan-Dale discovers how robot-assisted surgery is enabling doctors to perform many types of complex procedures with more precision, flexibility and control than is possible with conventional techniques… 
The idea that automation can play a valuable role in healthcare settings is becoming increasingly clear. This year the NHS's Long Term Workforce Plan suggested that nearly half (44%) of admin work from general practices can either be mostly or fully automated. Robotic surgery, or robot-assisted surgery (RAS), is one area where the advantages of automation are well-documented and achievable for hospitals facing growing pressures on both staff and resources. 
RAS involves the deployment of robotic technology to assist a team of human surgeons with a medical procedure. With benefits including reduced fatigue for surgeons, increases in precision, improved patient outcomes such as postoperative pain and long-term cost savings, the use of robotics as part of standard healthcare procedures offers attractive medical and operational gains. By offering inhuman levels of precision and access to parts of the human body that have been conventionally hard to reach, RAS provides opportunities for not just efficiency savings but improvements in how accurately surgeries can be performed, as well as reducing the physical strain on those performing them and overall risk of error.  
In its Future of Surgery report, the Royal College of Surgeons (RCS) outlined the types of robotic surgeries currently available, those which might appear in future and which are dominant in a UK context. The report explained that, currently, the majority of RAS is performed via 'a master-slave system'. This set-up is designed so that a surgeon can be sat down at a console, from which they can control the movements of robotic arms with movements that human arms and hands are not capable of performing. While this sounds like a game-changer for the clinical healthcare sector, RAS is currently used only for certain procedures and mostly within a limited number of urological and gynaecological surgeries, as well as 'some types of general surgery', according to the RCS.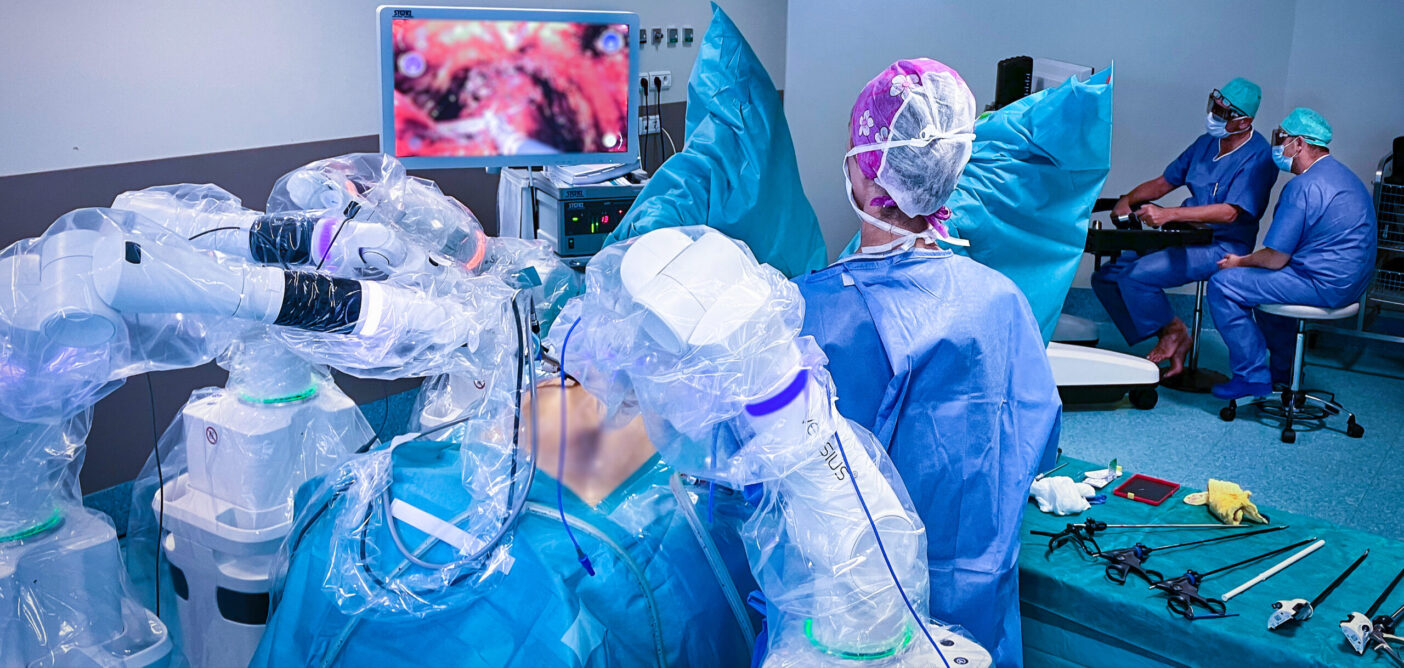 The new normal? 
However, deploying robotics as part of a spectrum of tools used by surgical staff does represent a progression in standard uses of technology in healthcare settings. "Robotics and artificial intelligence [AI] are rapidly changing healthcare, and we are now seeing them become a credible part of the healthcare ecosystem," says Antonio Espingardeiro, member of the Institute of Electrical and Electronics Engineers (IEEE) and software and robotics expert. "The next generation of surgical robots is an area where much more value can be added."  
Joseph Ambani, a medical doctor and lecturer at Glow Bar London, a London-based wellness startup for women, adds that surgeons can work "more comfortably" using RAS as it provides them with reduced physical strain, which can be key to staff and patient wellbeing, especially for hours-long procedures. Additionally, more advanced surgical robots can be operated remotely, meaning surgeons across the world can perform surgeries on patients located almost anywhere. 
Mohamed Abd Alazeez, consultant urologist, robotic surgeon and robotic lead at the Mid and South Essex NHS Foundation Trust, goes into more detail about the physical changes to how procedures are conducted through use of robotics. "A surgeon sitting at a console is very comfortable. You can, for example, position radii [the thicker and shorter of the two bones in the human forearm] during the procedure, meaning you don't have to stand for long periods of time and you don't have to exert muscular effort for retraction. This definitely helps from a physical point of view."  
However, Ambani also advises that extensive preparation is needed to introduce RAS into a hospital ecosystem. "Surgeons, nurses and support staff require extensive hands-on training, both on simulators and with actual equipment, especially because most surgical robots are bulky, which means that operating rooms might need refurbishing to accommodate these machines and to facilitate smooth workflow."  
Building on this, Laurence Weir, head of business development and technology implementation for biomedical and healthcare projects at technology consultancy Plextek, adds: "Theatres need to be redesigned to accommodate deployable robots from the ground up. Trying to retrofit them into existing theatres always challenges the status quo and results in resistance from humans". 
Additionally, significant investment is required for surgical robots to be implemented in this first place. According to the aforementioned RAC report, costs that need to be considered include the time needed by surgeons to adapt to this new mode of operation, which can initially lead to longer procedure times. The report also cites a study suggesting that the learning curve for surgical staff to become familiar with the technology can comprise up to 200 robot-assisted procedures before achieving the best outcomes. "This means it is key that, during initial integration, efforts are made to ensure the robotics work with other medical systems seamlessly and without glitches," Ambani adds.   
Read more: Two thirds of UK public want NHS to deploy more tech, survey reveals
A steady hand 
That being said, increases in the accuracy and precision of surgical actions offered by RAS can create major opportunities for hospitals looking to improve surgical outcomes. "By enabling the performance of extremely delicate tasks with unmatched consistency, smaller incisions can be made in the patient, leading to faster recovery times and reducing risk of infections," explains Ambani. "In addition, enhanced visualisation from these technologies means their high-definition 3D vision systems provide surgeons with a clear view of intricate anatomical structures."  
Expanding on how this increased precision has led to quantifiable results for his hospital, Alazees explains that, as is sometimes the case, for a robotic prostatectomy [surgery to remove part or all of the prostate gland], the patient has the repression fone in the morning, meaning they go into the evening calm. "This has been done only in very few facilities across Europe. We've done it on about 4,550 patients and none of them had any complications post-surgery or during recovery. This is also cost effective for the hospital. So, from all aspects, this was a very good step and was actually encouraged." 
This is partly because physical tremors naturally present in human hands are not replicated in surgical robots. "In the case of surgical procedures, robotics can reduce human tremor and provide far less invasive surgeries, which means less trauma for patients and faster recovery times," says Espingardeiro. By reducing patient trauma and the time needed to remain in hospital, this increase in precision can thus relieve the burden on medical personnel to perform everyday tasks and, as Espingardeiro explains, "frees up resources for more urgent responsibilities, making medical operations safer and less expensive for patients in the process." What's more, due to the more precise nature of the tools being used, the use of robotics has been linked to reductions in postoperative adhesion formation and hernias, according to the RCS. 
When asked about how patients at Mid and South Essex NHS Foundation Trust felt the use of robotics in place of human workers, Alazeez says many are very much aware and are "specifically asking" about the use of robotics. "Common questions include, 'Is my operation going to be with a robot?'. They have read the literature and most of them actually know how these operations are done. They want to have the most advanced technology possible in their operation."  
Cracking the da Vinci code  

In September, Guy's and St Thomas' NHS Foundation Trust in London became the first hospital in the UK to perform 10,000 robot-assisted surgeries. An early version of the da Vinci robot used to help achieve this milestone was first installed at the hospital in 2004, when the Trust initially started using the system to perform urological surgery. 

Since then, the programme has become the biggest in the UK and has included multiple new generations of Intuitive's da Vinci systems, across a wide range of specialities such as urology, thoracic, head and neck, gynaecology, transplant and gastrointestinal surgery. 

The device is operated remotely by a surgeon who controls its 'arms'. Ben Challacombe, clinical lead for robotic surgery at Guy's and St Thomas', says: "Almost all prostate, kidney and lung cancer surgery is now completed robotically at the Trust. Several complex operations have been pioneered at Guy's and St Thomas', having never been performed with standard key-hole surgery techniques.  

"We have an excellent professional team around the machines themselves including anaesthetists, dedicated robotic assistants and nurses, and highly experienced surgeons."  

After getting its first da Vinci robot, thanks to a grant from Guy's & St Thomas' Charity, the Trust currently has five da Vincis and seven robots in total. 

Clinical team member operating the Da Vinci robot
Patients rewarded 
Patient outcomes can change dramatically following the introduction of RAS. Alazeez says he has seen a huge difference, especially in bladder cancer patients and, in some cases, prostate cancer patients. However, according to Alazeez, Mid and South Essex NHS Foundation Trust "didn't really perform open prostatectomy anyway". These procedures, he explains, were laparoscopic, which refers to a type of surgical procedure that provides a surgeon with access to the inside of the abdomen and pelvis without having to make large incisions. 
"There is a big difference between robotic and laparoscopic surgeries for prostates, mainly the access during surgery. RAS has helped a lot in mastering these techniques and achieving better outcomes for the hospital stay for patients," says Alazeez, before adding that not only are there typically fewer complications, but recovery times and hospital stays have shortened.  
"The average hospital stay is one day following robotic surgery, whereas with laparoscopic surgery it was around two-to-three days. This was more significant when we started bladder cancer treatments using robots because blood cancer is more commonly extensive and is a highly technically demanding surgery.  
"Following open surgery, patients used to stay for a minimum of two weeks. With robotic surgery, this decreased to just three days, continues Alazeez. "There are also far fewer complications in terms of any injury to adjacent organs." Patients have even reported feeling much better within themselves after the robotic-assisted procedure, compared with open surgery. 
In Weir's opinion, there are two aspects of surgical procedures wherein robots far exceed human-led procedures. "These are when the procedure is very rudimental and easy and involves doing a repetitive task over and over. Humans can do these, but they are generally affected by external factors such as tiredness, stress or boredom, whereas robots achieve repeatability much more effectively." The second, he points out, is any action where "human perception or movement is inadequate to achieve a solution – such as keyhole surgery, where the view of a situation is difficult" as the vision capabilities of the robotic system are often far greater and wide-reaching. 
Present dangers 
With any new technology, clear rewards don't come without risks. It is important, as Ambani explains, that routine checks and maintenance schedules are established, as these are crucial for ensuring safety and longevity of the equipment and minimising risk to patients due to robotic malfunction. Potential error in operation of the technology is still a present danger, as well as issues within any one of the several components of these complex systems. Some of the intraoperative (during procedure) risks that manufacturer Intuitive lists on its website include excessive bleeding, loss of needle in the patient's body and injuries related to patients' positioning during RAS. 
Rigorous preparation, testing and training is therefore needed before the onboarding of a surgical robot, though the benefits are well-evidenced. Automation has the potential to transform operations, especially within civic organisations where resources are more constrained. One of the main problems any NHS trust faces is the backlog of patient specialty. In particular, there are certain times of the year when a trust might receive a lot of different referrals for cancer work. But, for Alazeez, by expanding Mid and South Essex NHS Foundation Trust's current RAS programme, deploying a second robot will, he believes, undoubtedly help to reduce patient waiting times and improve the efficacy of these procedures. 
 This feature was originally published in print in the November 2023 issue of Robotics & Automation.