Kardex, a leading supplier of automated storage solutions and material handling systems, is showcasing its range of intralogistics solutions in a novel format at Robotics and Automation 2023.
As Kardex (Stand r600) continues its drive into the wider automation field, focusing less on its previously core products – namely vertical lifts and carousels – it is choosing to showcase new technologies in conjunction with its picking software system at this year's show.
Interestingy, Kardex has not brought a physical machine to Robotics and Automation 2023 and is instead providing attendees with a virtual tour of its product range.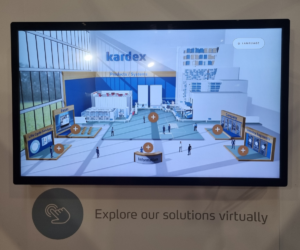 On this decision, Katie Budd, Autostore business development manager UK at Kardex says: "If you take a carousel or a vertical lift to a show, that's what you end up getting enquiries for.
"But we're now so more than that now. If you look at Industry 4.0, this is led by its software, and when integrated with a vertical lift or a carousel it lifts it to a different dimension."
On how the show has been for the company so far, Debra Wilkins, marketing and communication manager, UK & Ireland at Kardex, said: "So we've [found that] the people that we are talking to actually really interested and that's good. I think we're going to have some good leads. I came to IntraLogisteX in 2018 and it was a brilliant show for us. We got loads of leads, we walked away with about 200 leads.
"The show has something that it's built up over the last few years. In the past we've had a lot of tire kickers that waste our time, just walking around not really that interested. Whereas here, we're having conversations with bigger companies that are actually looking for something, and that makes a difference. So far, the show has proven the quality we are actually interested in."
As visitors to the show are discovering, the virtual tour includes technologies designed to enhance the customer experience, such as the 'Intuitive Picking Assistant', which it released at the beginning of March.
Kardex is likewise offering insights into its pick technology and explanations on its various services, such as its remote support, which allows its team to dive into machines to carry out assessments on, for example, servicing or cycles, to see how the machines are performing live and plan preventative maintenance.
What's more, Kardex is keen to let visitors know about its partnership with AutoStore. Since the partnership began in 2021, the company has secured some 26 projects across the UK and Europe.
Budd continues: "We're now able to attract a customer base that Kardex maybe we wouldn't have communicated with previously, such as 3PLs and e-commerce businesses. That's where we've come from to where we are now.
"We're now looking at integration with conveyors, AMR solutions, robotics, and now with AutoStore products we have created a wider portfolio."
For more information on Kardex's product portfolio for intralogistics applications, visit Stand r600.
Missed Day 1 of Robotics and Automation 2023? There's still time to register for Day 2 (29 March)! Click here to register for your free visitor pass – which includes access to the co-located IntraLogisteX 2023 – and see the very best in robotics and automation solutions live at the NEC Birmingham!