According to preliminary figures from the International Federation of Robotics (IFR), the EU's 27 member states installed nearly 72,000 robots in 2022, representing a six percent increase from the previous year and a growth of 15,000 units since 2017.
"The top five adopting countries within the EU are Germany, Italy, France, Spain and Poland," said Marina Bill, president of the IFR.
"They account for about 70% of all industrial robots installed within the EU in 2022."
The data shows that Germany has the highest robot density in Europe, with approximately 26,000 units being installed in 2022, a three precent increase from the previous year.
It is also the fourth most robot-dense nation in the world, following Japan, Singapore and the Republic of Korea. It accounted for 37% of EU installations in 2022.
Last month [June 2023], plant and engineering group VDMA predicted that the German robotics and automation sector would see another record year and forecast a 13% increase in sales to €16.2bn (£13.8bn) in 2023.
Italy was ranked as the second largest robot market in Europe, seeing an all-time high of installations with almost 12,000 units (an increase of 10%) in 2022. This represented 16% of total EU installations.
France came in third for installations out of the 27 states, with the number of units increasing by 15% to a total of 7,400.
The IFR commented that this was less than a third of the number of its neighbour Germany, with the metal industry being the most robot-dense market segment in France, representing a share of 22%.
The French government previously introduced a €100bn (£85.2bn) stimulus package for investment in smart factory and industrial equipment as part of its economic recovery from the pandemic, which came into effect in mid-2021. It is hoped that this will generate increased demand for industrial robots in the next few years.
Of the total budget, €8.4bn (£7.1bn) was dedicated to the digital transition and technologies such as as cybersecurity, quantum, 5G and cloud computing.
In Spain, annual installations grew by 12% to 3,800 units, with this country's installations traditionally being dominated by the automotive industry.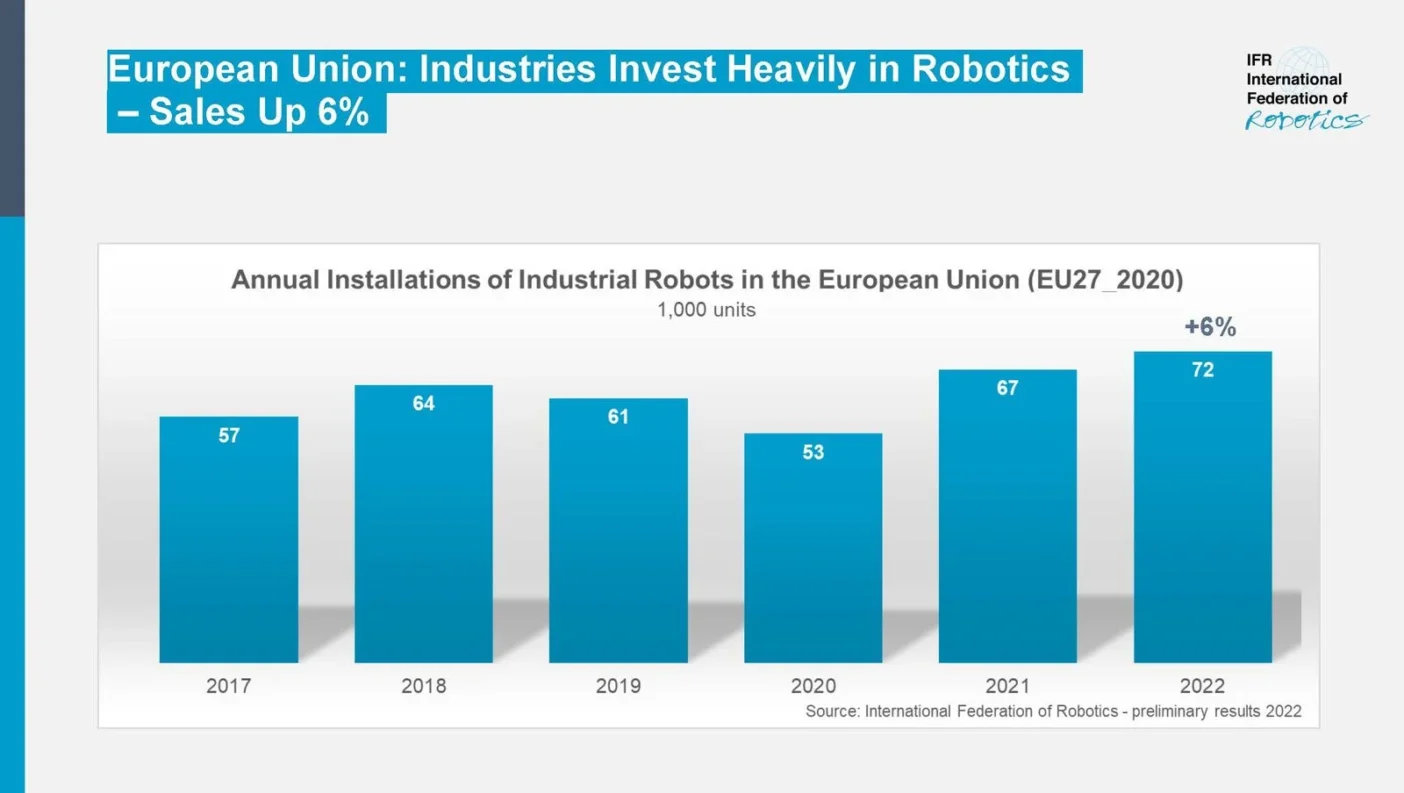 Poland has likewise seen a strong upward trajectory for nine years in terms of robot installations.
Digitalisation and automation technologies are set to receive €160bn (£136.2bn) in EU investment between 2021 and 2027, which is hoped to stimulate the uptake of robotics solutions across all member nations.
What's more, robot installations in European countries, including non-EU member states, hit a total of 84,000 units in 2022, marking an increase of three percent.