James McLoughlin explores the importance of the relationship between humans and machines in the world of logistics… 
The word 'robot' may conjure up images of sci-fi films such as Terminator or I, Robot, but the reality is that robots are a staple of the modern warehouse. In fact, in 2019 ABI Research predicted that, by 2025, more than four million commercial robots will be installed in more than 50,000 warehouses worldwide. The upwards trajectory of the involvement of robotic technologies in warehousing in recent years suggests this prediction is not unrealistic.  
As Ryan Guthrie, technical director at TM Robotics – a distributor of robots from manufacturer Shibaura Machine – explains, a number of new robotic technologies are beginning to make their way into modern warehouses. One such advancement is the development of robotic arms that can be fitted to automated guided vehicles (AGVs), which "allows for picking as well as transportation of warehouse goods from shelves".  
Guthrie the use of drones within warehouses to proliferate over the coming years. On their growing role in applications such as stock-taking, he says: "Drones are already used to track maintenance requirements of pipes in hard-to-reach places. They can also be used to transport goods [and] track and identify the locations of products or take audits of packages in warehouses. Drones can help run stock takes in warehouses and automate ordering processes, helping to prevent items from going out of stock as frequently, if at all."  

Wage against the machine 
When thinking about the use of robots in warehouses, it is only natural to ask: are robots going to take the jobs of humans? While this is a concern held by some, there are several factors that suggest robots could be more of a help than a hindrance to human workers, as well as to the industry.  
The first thing that needs to be considered is the labour shortage in the warehousing sector. A real issue across the logistics industry, labour shortages have had a drastic impact in many cases, including reports from Reuters last September that the sector had seen a 30% pay spike as desperate companies facing staff shortages heading into the peak season attempted to attract workers.  
Jason Norman, senior account manager for robotics automation in Europe, the Middle East and Africa (EMEA) at the Zebra Technologies-owned Fetch Robotics, acknowledges that "the warehousing sector is facing a labour challenge around hiring, training, and retaining valuable front-line workers". According to Norman, "robotic automation is needed to fill labour gaps and help the existing workforce".   
Collaborative robots (cobots) are being used in warehouses around the world to give workers a helping hand. Rather than taking over a task entirely, cobots allow for the benefit of both human and technological input. Much like cobots, autonomous mobile robots (AMRs) also work alongside people to alleviate some of the pressures of demanding physical labour in the warehouse; a study conducted by Zebra even showed that 81% of European warehouse associates 'strongly believe AMRs could make warehouse jobs less stressful'.  
Additionally, it found that, of associates already working alongside AMRs, 83% confirmed the technology has helped increase productivity and reduce travel time, while 73% said AMRs helped reduce errors. By taking care of the more tedious and strenuous parts of the job, AMRs not only make life easier for staff, but give them more time to focus on the tasks that really need a human touch, thus improving morale and productivity.  
As Norman notes, "warehouses are moving from islands to ecosystems of automation where more processes, assets, and workers are connected". Robots do not need to be a threat to staff and, if applied correctly, can actually work in tandem with members of staff to resolve some of the biggest issues facing the industry at present.  
Leave it to the machines 
Having said this, some believe that in the future there will be drastic changes to the employment of staff and the roles carried out in warehouses by humans. Atif Syed, founder of robotics company Wootzano, believes that "some jobs will be converted from low-paying and low-skilled to high-paying and higher-skilled jobs, such as line operators and supervisors".  
He predicts that, with rising labour costs and seemingly diminishing demand for low-skilled warehouse roles, the more repetitive and strenuous tasks will be taken over by robots, with humans instead being employed as robotictechnicians hired to maintain the machinery itself.  He envisions "very little human intervention in the actual process apart from monitoring the processes". What's more, Syed also thinks that, by eradicating the need for such laborious tasks to be carried out by staff, job satisfaction will increase.  
If this is what the warehouse of the future will look like, there will be several implications on how it operates on a day-to-day basis. For example, lighting may not be necessary in a room entirely populated by robots and operations may be able to continue around the clock if the necessary robots can run lights-out, as Ross Lacy, mobile robots sales manager at RARUK Automation, alludes to.  
Adding to this, Syed from Wootzano, which specialises in dexterous robots for fruit and vegetable packaging, also draws attention to the opportunity for optimisation of the gases in the room when fruit is being processed, picked and packed – something that is only possible in a human-free environment. If the robots were to be monitored remotely by technicians in another space, Syed ponders on the possibility of a future where "the next punnet of grapes you pick up from the supermarket has never been touched by a human before and you are the only person to touch the fruit from the time it was harvested".  
This highlights another potential advantage of robotics in warehouses, wherein robots can be used to take over potentially dangerous tasks, thus minimising the risk of injury to workers. Andrew Mason, automation sales manager at RARUK Automation, gives the example of AMRs that use sensors to "navigate obstacles and people safely" as an alternative to using human-operated forklift trucks. So long as the systems are effective, taking out the risk of human error is a significant health and safety advantage.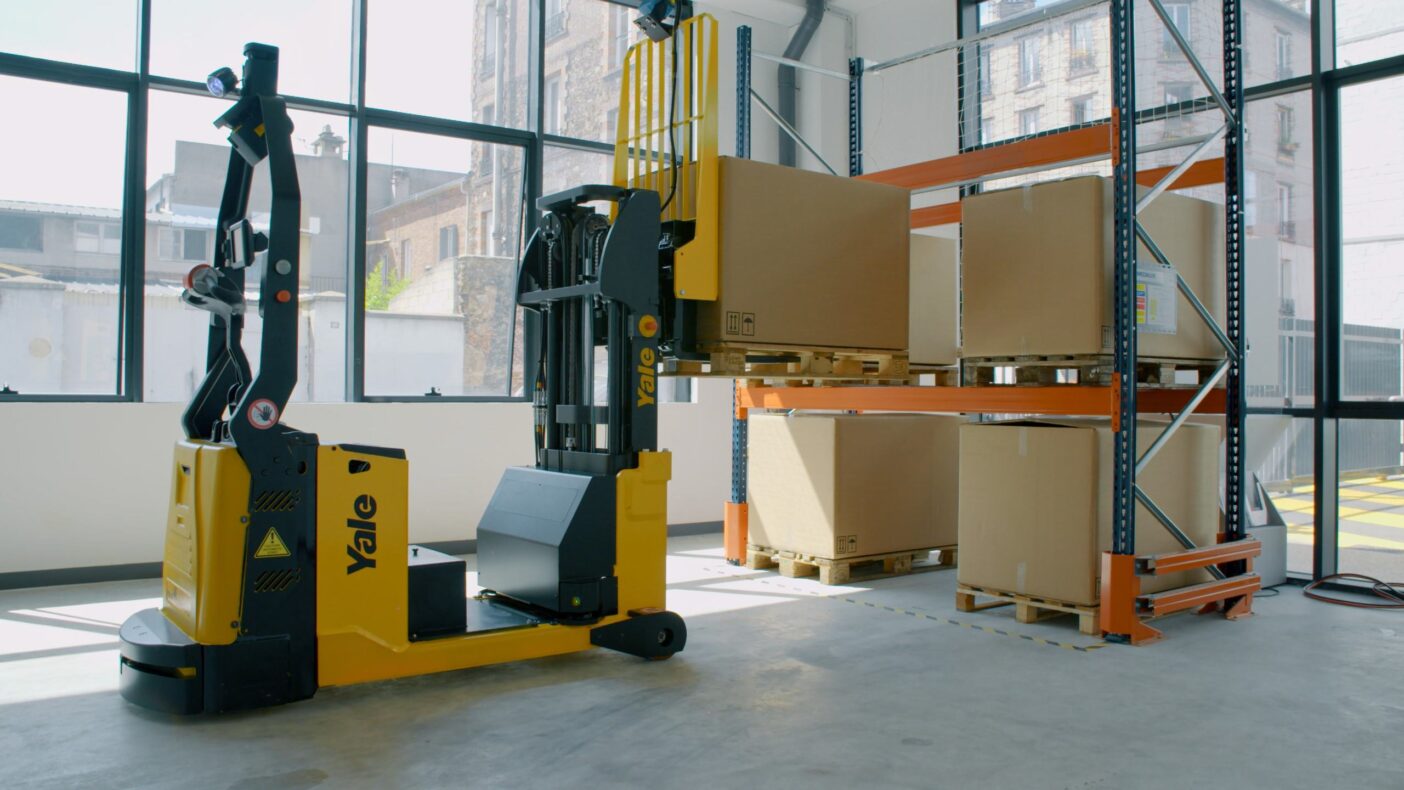 A spanner in the works? 
If robotics can solve so many problems in the world of warehousing, then why isn't every company investing in automation? As Ron Farr, warehouse solutions manager at Yale, found when consulting with the materials handling and warehouse lift equipment company's clients, "a major hurdle to introducing robotics in warehouses and production lines is the installation of dedicated infrastructure". In some cases, it's not necessarily the purchase of robotics that is the issue but the cost of spending time and money, as well as the disruption that would be caused by having to install the necessary infrastructure to support these systems.  
To get around this, some companies have begun to focus on producing solutions that do not require excessive structural changes to be made. For example, Yale has developed "a range of trucks that use existing structural features to generate their own map, enabling them to self-locate and navigate in real-time". Without the need to bury wires in the floor or mount reflectors on walls, companies can invest in new technology without having to commit to building and maintaining new structural features.   
From AGVs to AMRs to cobots to drones, the world of robotics is vast and varied, with a broad range of potential applications in the warehouse and new opportunities consistently arising as innovative technologies are developed. The right choice of robotics is important and can improve efficiency, productivity and reliability, as well as potentially boosting staff morale and worker satisfaction by offering assistance or eliminating the need for carrying out menial tasks entirely.  
All signs point to a future wherein robots play an even greater role in warehouse activities. In the coming years, we will see just how the big the impact of the growing prominence of robotics and automation in logistics is – and how it will shape the relationship between human and machine in the warehouse. 
 This article was published in the May 2023 issue of Robotics & Innovation Magazine. Read the original article.