Ai-da, a robot powered by artificial intelligence (AI), has become the first humanoid robot to use machine learning algorithms to design household items, which are being exhibited at the London Design Biennale 2023.
The London Design Biennale 2023 is a design exhibition featuring the work of different global designers; visitors can see Ai-da's exhibit, called 'AI Mind Home', from 1 June to 25 June.
Ai-da created the designs for the homeware, which was then produced using a 3D printer.  So far, the robot has demonstrated the ability to paint and illustrate household objects, including plates and cups.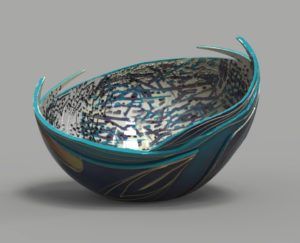 Many of the works designed by Ai-da are non-functional, including jugs, cutlery and bowls with holes in them.
Ai-da was designed and built by Aidan Meller in collaboration with a Cornish robotics company, as well as machine learning and hardware contributions from the University of Oxford and University of Leeds, respectively.
Read more: Humanoid robot gives evidence in House of Lords inquiry
Some of her other abilities include talking, being expressive through head and body movements and tracking faces using cameras in her eyes.