Augsburg-based automation company Kuka and German automotive manufacturer BMW have signed a framework agreement for the supply of around 5,000 robots for new production lines and factories.
The Kuka industrial robots will be used around the world at BMW's international production sites for the manufacture of current and future generation vehicle models.
Various robot models will be used primarily in body-in-white production and other technologies.
Kuka's scope of supply also includes linear units, which increase the workspace of the robot.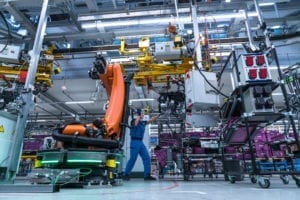 The units are controlled by the same controller as the robot, which allows them to be integrated into work sequences without the need for additional equipment.
Energy supply packages developed by Kuka are also included in the scope of supply.
Peter Mohnen, CEO of Kuka, said: "For more than 40 years now, BMW has relied on Kuka technology from Augsburg.
"We are delighted by the successful continuation of this partnership"
Want to read more stories like this?
Robots to bolster BMW production lines
British auto parts supplier deploys packing cobot
Nissan teaches robots to make replacement car parts
Ford deploys Universal Robots cobots on Fiesta production line