UK robotics and data intelligence company Dexory is displaying its latest solution, DexoryView – a platform designed to change the way warehouses are managed by leveraging real-time data – at the co-located Robotics and Automation and IntraLogisteX 2023 shows. 
As visitors to Stand i206 are discovering, the platform has been developed to automate data collection and build real-time digital twins that unlock insights across all levels of warehouse operations.
This gives companies up-to-date access to their inventory – across the receiving, storing and dispatch stages – from anywhere and at any time, which means users can automate their stock checks while keeping track of occupancy, increasing efficiency and helping to facilitate profitable operations.
Jackie Bibby, director of marketing at Dexory, said: "The show been great – very busy. We've seen a lot of people that we already know and there've been a lot of new leads. We've had very interesting conversations with current customers and different sites within the same organisations.
"We've also had new companies coming up to the stand and companies we haven't heard of but seem like they would be really good leads. It has been really good for discussions."
In addition to DexoryView, Dexory is also showcasing a new robot, which is said to be the tallest yet of its kind. The robot's range of height is intended to allow it to scan warehouses of any shape or size.
"What we have on show is a stock-taking solution," said Bibby. "It's a fully autonomous robot that navigates the aisles, scans every single rack location on the aisles, and understands whether there are any inconsistencies that it sees in the physical environment versus what our customers have in their WMSs.
"All of the data that it captures from the environment is then visualised on a digital-twin platform that we offer as part of an end-to-end solution."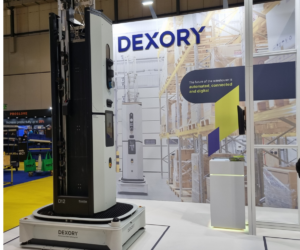 The data capture function performed by the robot is helped by an array of 3D depth cameras and sensors, which support the robot to autonomously navigate the warehouse using lidar technology to capture high-definition 3D scans of the space, as well as any labels and barcodes on pallets, parcels or products.
Offered through a subscription model, companies can scale their DexoryView access based on their data needs, as a stand technician explains.
Visit Stand i206 to learn more about DexoryView and speak to the team about how data-driven technology can support more efficient warehouse management.