With just weeks to go until Robotics and Automation 2023, Robotics & Innovation meets Lee Hooker from Solstice AV (Stand r320), a participant of the event's brand-new content zone concept, to find out what the company will showcase at this year's show, which takes place alongside IntraLogisteX 2023 at the NEC Birmingham on March 28-29…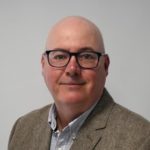 Name: Lee Hooker
Job Title: Commercial Director
Organisation: Solstice AV
Please share a little about your organisation with our visitors…
Solstice AV is pioneering an exciting new horizon in the world of AV with our robotics division, established in 2022. Our expert team has joined forces with Pudu Robotics to bring customers innovative solutions and exclusive opportunities across all verticals – transforming supply chains into a revolutionary experience that transcends traditional standards. 
Can you please tell us why you have chosen to participate in the content zone at Robotics and Automation?  
We are delighted to be participating in Robotics and Automation, an event that is sure to bring together some of the industry's most innovative minds. Our goal is to use this unique platform as a way for us to demonstrate our commitment and expertise in robotics and automation technology.  
What will you be sharing with visitors to the exhibition? 
Visitors to our content zone will be immersed in a world of discovery as they explore the many amazing co-operations possible between humans and robots. We will showcase the incredible potential of service robots and will be demonstrating how technology can revolutionise everyday tasks, making life more efficient and enjoyable.  
Read the Robotics and Automation preview in the March 2023 issue of Robotics & Innovation:
What do you feel are the biggest challenges currently facing the industry?  
As the hospitality and service industries grapple with rising costs and limited workforce capacity, service robots may provide an invaluable solution. From automating mundane tasks to offering personalised customer experiences at a fraction of the cost, these robotic solutions could be key in allowing businesses to remain competitive for years to come.  
What are you looking forward to at Robotics and Automation this year?  
At Robotics and Automation 2023, we are excited to explore the cutting-edge possibilities of automation. With a focus on harnessing dynamic applications for enhanced productivity and efficiency, this event promises an enthralling journey into the future of robotic advancements in our modern world. 
Why are events like Robotics and Automation important to the industry?  
Events like Robotics and Automation are integral to the success of an industry. By learning about these ever-growing technologies, professionals can stay ahead of the competition by gaining valuable insights into how they can best implement them in their own work environments. Through this knowledge, businesses have new opportunities for increased efficiency and productivity, while also staying up-to-date with current trends that could impact their industries down the line.  
Solstice AV (Stand r320) will be at Robotics and Automation 2023, which takes place on 28-29 March at the NEC Birmingham. Register at roboticsandautomation.co.uk for your free visitor pass, which also includes access to IntraLogisteX 2023.