Smith + Nephew has launched a handheld robotic surgical system which can be used in total and partial knee arthroplasties, with the aim of improving accuracy and therefore patient outcomes.
The British medical equipment manufacturing's Cori system is designed to be a compact and fully mobile solution incorporating a 3D intra-operative imaging system with an advanced robotic sculpting tool. The robotic system allows surgeons to measure, plan, and perform a knee surgery which is personalised to the patient's individual anatomy in theatre.
According to the company, Cori is considerably more compact than alternative robotic systems, has minimal set up time, and is so portable it can be moved from theatre to theatre to optimise flow of patients through surgical units.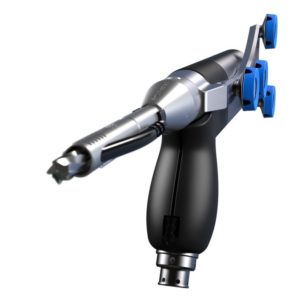 One of the first surgeons to use the device in the UK was Tim Parratt, consultant orthopaedic surgeon at East Suffolk North Essex NHS Foundation Trust. He said: "The Cori system is excellent to use. This technology is mobile, portable and slots seamlessly into theatre.
"There is minimal disruption for the theatre staff. If anything, it's easier than getting conventional kit ready. This system also allows me to tailor the operation to the patient's unique physiology, whereas with instruments I tended to perform the same operation every time on each patient."
Smith + Nephew added the benefits of robotics-assisted surgery for patients are myriad, and include improved patient reported outcome measures and shortened length of hospital stay, there is also evidence of an earlier return to an active lifestyle.
"The Cori system enables every patient to have a knee replacement that is shape matched and aligned to their specific anatomy. We know that outcomes aren't consistent in non-robotic surgeries and that one in five patients have issues following surgery. Our technology has evolved so that we can achieve a personalised fit to each individual patient," added Simon Tarry, managing director, UK, Ireland & Nordics, Smith + Nephew.