The use of industrial robots in factories around the world is accelerating at a high rate, with nearly double the number five years ago, according to new figures from the International Federation of Robotics (IFR).
According to the 2021 World Robot Report, 126 robots per 10,000 employees is the new average of global robot density in the manufacturing industries, this has increased from 66 units in 2015.
"Robot density is the barometer to track the degree of automation adoption in the manufacturing industry around the world," said Milton Guerry, president of the International Federation of Robotics.
While the UK's industrial robot density increased from 71 in 2015 to 101 in 2020, representing a growth rate of 77% over the five years, it is below the global average. It puts the UK in 24th position in the global league of robot densities.
The report suggested the exodus of foreign labour after Brexit increased the demand for robots in 2020. This situation is expected to continue in near future, the modernisation of the UK manufacturing industry will also be boosted by tax incentives, the "super-deduction". From April 2021 until March 2023, companies can claim 130% of capital allowances as a tax relief for plant and machinery investments.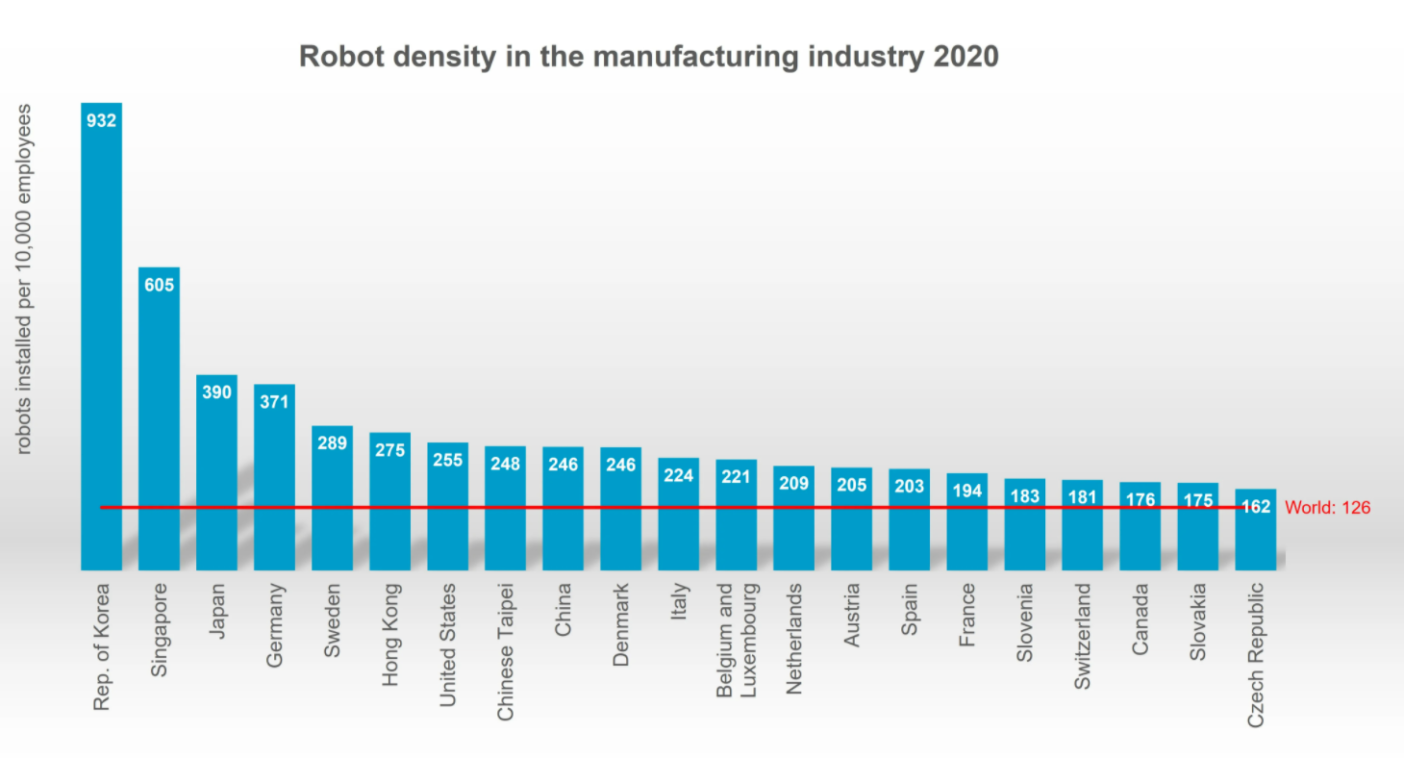 By regions, the average robot density in Asia/Australia is 134 units, in Europe 123 units and in the Americas 111 units. The IFR's top five most automated countries in the world are South Korea, Singapore, Japan, Germany, and Sweden.
Furthermore, the report added the development of robot density in China is the most dynamic worldwide. It suggested this was due to the growth of robot installations, the density rate rose from 49 units in 2015 to 246 units in 2020. Today, China's robot density ranks ninth globally compared to 25th five years ago.
The report found that Europe's most automated country is Germany – ranking fourth worldwide with 371 units. The annual supply had a share of 33% of total robot sales in Europe 2020 – 38% of Europe's operational stock is in Germany. The German robotics industry is recovering, mainly driven by strong overseas business rather than by the domestic or European market, the report said. Robot demand in Germany is expected to grow slowly, mainly supported by demand for low-cost robots in the general industries and outside traditional manufacturing.