British agri-robotics start-up Robotriks has developed a robotic farming platform to assist with overcoming manual labour shortages.
The University of Plymouth spin-out company said the low-cost agricultural robot can complete tasks such as crop monitoring and harvesting cauliflowers.
According to Robotriks founder Jake Shaw-Sutton, the Robotriks Traction Unit (RTU) has been built to fill jobs where there are currently no people available to do them.
He said: "For a while there have been fewer people willing to go out into the fields and harvest fruit and vegetables; this is an autonomous solution to that, and one that is affordable and reliable.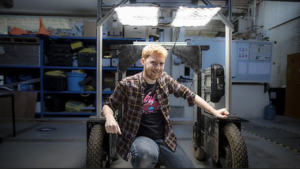 "Even with the current cost of the unit, which we're always trying to improve, it still works out cheaper than having someone employed on minimum wage. It can work for more hours, not needing lunch breaks or to sleep at night."
The RTU is said to be able to fit with almost any agricultural implement and can reportedly be built within a few hours.
Furthermore, the RTU can work autonomously or via a remote control. There is also an emergency stop button with a remote kill switch.
The platform's parts are all mass produced to bring costs down including the wheel's brushless hub motor, which is from an e-bike.
Robotriks said the RTU can run at 10mph, carry several hundred kilos and is powered by batteries that last for up to 24 hours.
Shaw-Sutton added: "The unit is fully adjustable to any height and width. Some farms may have narrow paths, for example in fruit and vegetables, or it might need to go wider to get over tall crops.
"And currently you just plug in to charge it, but we are considering having a docking station, because all of the power can be harvested from a single solar panel."
The RTU is currently in the testing phase but Robotriks said it's being offered commercially to researchers. The company aims for the unit to have enough functionality to offer it to a wider market over the next year.
The project has been funded by Agri-Tech Cornwall, part-funded by the European Regional Development Fund, with match-funding from Cornwall Council and an innovation grant from the Cornwall Development Company.
Robotriks is part of a cluster of technology companies emerging at the University of Plymouth in conjunction with the Agri-Tech Cornwall project, which includes Fieldwork Robotics.