A wall climbing robot, designed and built by Birmingham-based HausBots with the help of WMG at the University of Warwick, is now on the market and aims to reduce the number of workplace accidents.
HausBots are on mission to use technology to protect and maintain the built environment and have developed a robotic platform that can climb vertical surfaces. It can be used for inspection and maintenance tasks such as building and infrastructure inspection and surveying or painting.
The idea of the HausBots started in the co-founder's garage, and with the help of the WMG SME team the robot was bought to life. WMG SME assisted with building the prototype and testing the technology.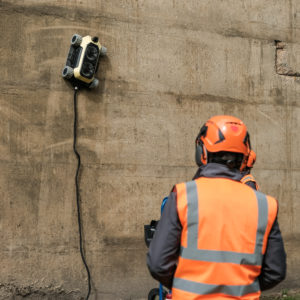 Four years ago, when the first prototype was developed researchers at WMG, University of Warwick worked with HausBots on the circuit motor controls and designed the system to help them get production ready thanks to the Product Innovation Accelerator scheme with Coventry & Warwickshire Local Enterprise Partnership.
To ensure the robot doesn't fall it had to undergo extensive electro-magnetic compatibility (EMC) testing to make sure the fans, which essentially attach it to the surface are functioning correctly.
The WMG SME team tested the robot by placing it in the EMC chamber and assessing how it responds to noise and to make sure it didn't emit any unwanted noise into the atmosphere itself. Using amplifiers to simulate noise and analysers, the researchers were able to detect any unwanted interference and emissions with the robot and record results.
David Norman, from the WMG SME group at the University of Warwick, said: "It has been a pleasure to be with HausBots and help them develop their product, the concept of the robot is incredible, and could save lives and reduce the number of workplace accidents.
"Our facilities and expertise have helped HausBots develop a market-ready product, which is now on the market and has carried out many jobs from painting. Picture of the HausBot robot in action painting a house and cleaning the graffiti off the spaghetti junction in Birmingham. We hope to continue working with them in the future and can't wait to see where they are this time next year."
Read more: Funding boost for graffiti fighting robots