Delivery robot developer Ottonomy Inc has launched its 'Ottobots' at an international airport in the US, in what is said to be the first autonomous robotic delivery service in an airport environment.
Launched in time for the holiday travel season, the robots will deliver both food and retail products at the Cincinnati/North Kentucky Airport (CVG).
Customers can order contactless delivery from selected stores via orderatcvg.com. Updates will be sent to an user's phone, with a QR code required to open the robot's secure compartment.
The robots navigate using Ottonomy's Contextual Mobility navigation technology, which uses behaviour based contextual navigation with mapping and localisation.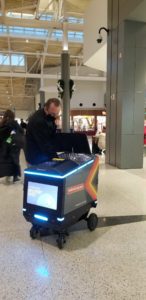 "At CVG, we are redefining the travel experience by combining talent and tech to deliver innovative solutions," said Candace McGraw, chief executive officer, CVG Airport.
"We've built a culture of innovation at the airport and are excited to partner with Ottonomy to test and advance this technology in a live, airport environment."
The partnership began piloting the robots at CVG last year, which has enabled feedback to be collated from participants about their experience, the cost and whether they would like to see these robots in an airport. Ottonomy plans to continue gathering feedback and developing its program as its robots make deliveries.
"This launch is a testament to CVG's commitment to innovation and customer experience. We are able to provide a safe and secure experience through our Ottobots, executing automated contactless deliveries of food and beverage and retail products," Ritukar Vijay, co-founder and CEO of Ottonomy Inc, said.
"Covid-19 has changed the way we all interact and relate to travel, making contactless delivery even more relevant and essential."
Ottobots are also suitable for curbside, last-mile and indoor deliveries.