The Royal Fleet Auxiliary (RFA) – whose ships and sailors support the Royal Navy operations with fuel, food, spare parts, ammunition and other supplies – is looking into the possibility of crewless aircraft performing some of the more routine, lighter duties.
Currently, a RFA tanker would sail parallel with a warship and either pump fuel into its tanks via a hose or transfer supplies in crates and on pallets on a jackstay line slung between the two vessels. Helicopters are also used to move loads around the fleet, typically in large nets carried beneath the aircraft.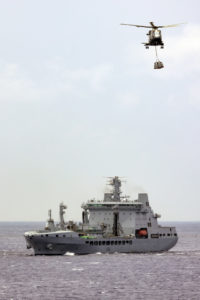 While some loads are too heavy for current small-scale drones to transport, seven out of ten resupply missions involve the transfer of loads up to 100lbs/45kg. Thus, the head of the RFA, Commodore David Eagles, wants to see if the work is 'dronable'.
According to the RFA, using drones would save time, money and sailors, and free up helicopters for other duties.
The US Navy's Naval Air Systems Command is experimenting with unmanned aircraft moving relatively lightweight supplies – up to 25lbs/11kg – between ships, over distances which could be greater than 200 miles.
Trials over the summer successfully proved this concept by delivering a small cargo for repairs between a warship and an auxiliary of the Military Sealift Command (MSC) – the US Navy's equivalent of the RFA.
Furthermore, Royal Marines have tested re-supply by drone both on the battlefield and on the beachhead, using autonomous systems, from Malloy Aeronautics Ltd. The project used unmanned aircraft to ferry up to 150lbs/68kg supplies; including ammunition, blood and Bergen backpacks to troops in the line from either ships off shore or bases to the rear.
"The RFA is looking very closely at the Military Sealift Command and the opportunities around using drones to make deliveries at sea," said Eagles.
Eagles regularly confers with his counterpart in the MSC, which conducted the summer trials, and he has asked his liaison team to follow its progress and share some lessons of the Royal Navy's own trials with similar systems.