Guy's and St Thomas' NHS Foundation Trust is the first hospital in London to use the Versius surgical robot, enabling patients awaiting cancer treatment greater access to minimal access surgery in the capital.
The teaching hospital said it has adopted the technology in order to increase patient access to minimal access (or keyhole) surgery across both of its London sites.
Minimal access surgery is associated with a range of patient benefits including reduced recovery time, reduced scarring and reduced pain. Guy's and St Thomas' NHS Foundation Trust hopes that by bolstering its robotic programme with the new Versius robot, many more patients awaiting surgery in London will be able to receive this care, and surgeons will also benefit from it.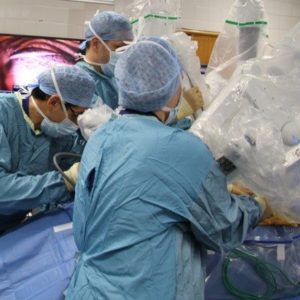 Prokar Dasgupta, honorary consultant urological surgeon at Guy's and St Thomas, and professor of surgery at King's College London and King's Health Partners, said: "While minimal access surgery is well-established as the peak of patient care, when performed manually, without the aid of robotics, it can be extremely demanding for surgeons – both physically and mentally.
"Versius could help us to improve surgeon wellbeing at this challenging time because it has an ergonomic design, allowing surgeons to operate in much more comfortable, neutral positions. This has the potential to enable surgeons to operate for longer, while experiencing less pain and discomfort."
The multi-specialty programme has begun in the established urology department, and the robot is already helping surgeons to perform complex cases, including the first robotic prostatectomy in the UK with Versius. In the future, patients having colorectal and general surgeries at the Trust will also be able to benefit from robotic surgery with Versius.
Ben Challacombe, consultant urological surgeon, Guy's and St Thomas', added: "One of the key reasons we wanted to bring in Versius to the Trust was the small-scale and modular design which means that the individual robotic arms can be moved between hospital sites and departments. This means that a number of different procedures can be performed efficiently across our busy operating theatres and more patients will have access to innovative robotic technology."