Brain Corp, an AI company creating core technology for robotics, has announced that its BrainOS-powered fleet of autonomous mobile robots (AMRs) has officially reached 100 billion square feet of coverage.
The AI-firm added the AMRs have saved 6.8 million hours which were given back to employees and operations managers, allowing them to focus on customer experience and other high-value tasks.
"We are thrilled to celebrate reaching 100 billion square feet of coverage with our fleet which represents the square footage of the entire commercial space in the United States," said Eugene Izhikevich, CEO and founder of Brain Corp.
"The milestone represents a clear success of deploying autonomous robots at scale and across multiple industries. As a company committed to continuous improvement, it's been incredibly gratifying to see such major advances in our fleet's performance, even as it has been scaled and expanded to operate in multiple new dynamic public environments across the world."
From 01 October 2020 to 01 October 2021, usage of automated robotics increased across a number of industry sectors with several seeing substantial year-over-year growth. Increases in square feet covered autonomously included within retail +40%, airports +69%, shopping centres +113%, education +426% and hospitals +2,500%.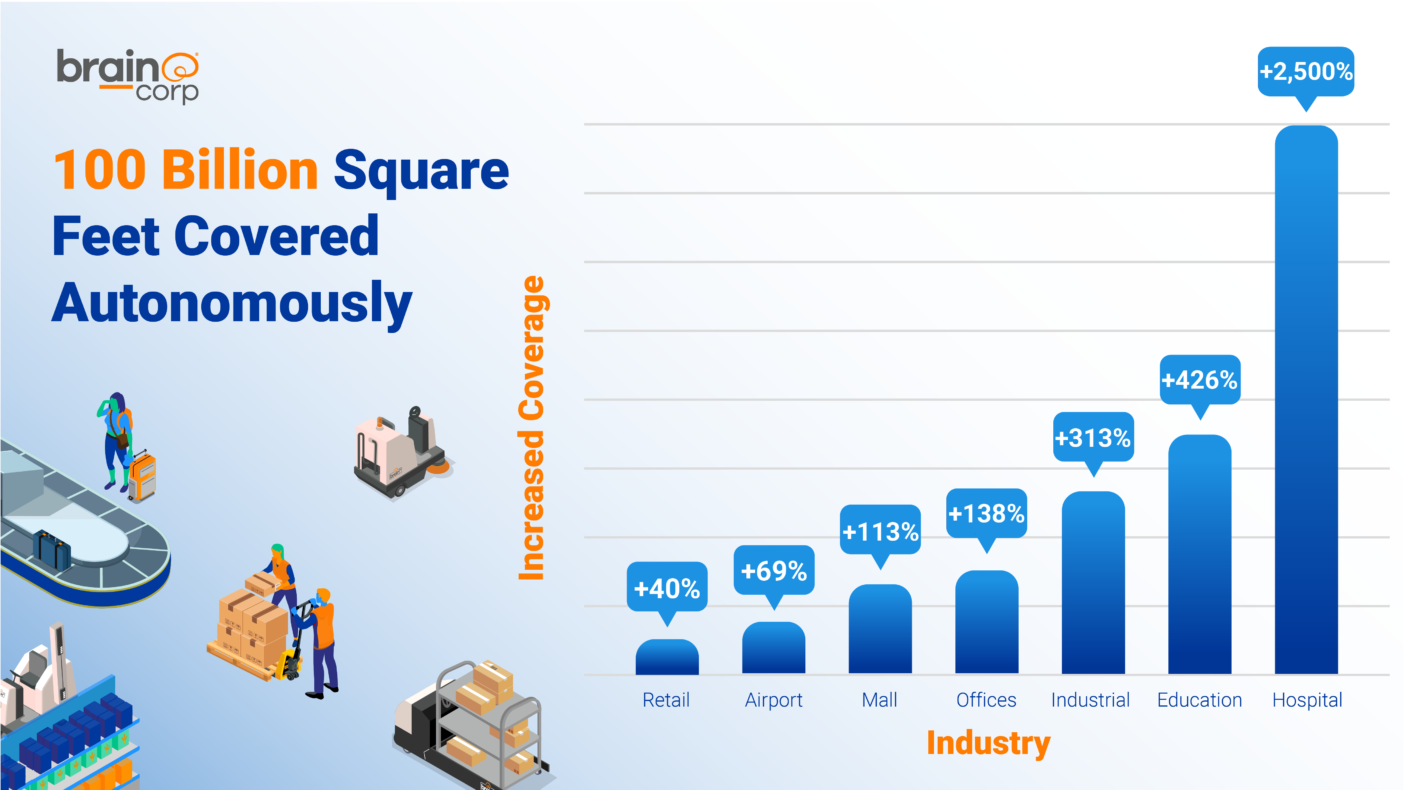 Brain Corp added while its initial robot fleet growth was centred around retail environments, the increases in deployments within educational facilities and hospitals reflects the ability of BrainOS-powered robots to learn the key dynamics of new environments, a critical factor in the ongoing advancement of its technology.
"As we've expanded our fleet size, our focus has always been on safely operating in a variety of different environments," said Sean Felker, lead functional safety engineer, Brain Corp.
"Reaching 100 billion square feet of autonomous coverage is validation that this focus is paying off. We have always been committed to helping customers become more efficient in their operations, and it's a testament to our skilled teams that this is being successfully achieved while prioritising safety and privacy."