Fashion and homeware retailer Next has deployed more than 250 Geek+ autonomous mobile robots (AMRs) in its 484,000ft² Dearne Valley Pallet fulfilment centre in South Yorkshire.
The robots will assist in Next's picking and order sorting processes as part of the company's e-fulfilment operations. Two types of Geek+ robots were used to create a picking and sorting solution for pallets in the warehouse: the P800 and the S20T.
Geek+'s P800, part of the P Series of goods-to-person picking robots, is used to move pallets around the warehouse and into position for a picking order to begin. It has a maximum lifting load of 1000kg and is capable of moving at a speed of 1.6m/s with a full load (2m/s with no load).
The other type of robot in use at the NEXT facility is the S20T, a taller model from Geek+'s S Series of sorting robots. This is used once orders have been picked to 'transfer goods to the designated chute for the depot'.
According to Next, the efficiency of its picking processes have doubled since the introduction of this automation. The firm claims that it can now process up to 16,000 units per day.
Liam Jenkinson, site manager at Next's Dearne Valley Pallet, said: "The flexibility offered by Geek+'s picking and sortation system is critical to our operations, and the integration between our warehouse management system (WMS) and Geek+'s Robot Management System is seamless. As our business continues to expand, we are planning to extend the warehouse and replicate the success of this project in the new space."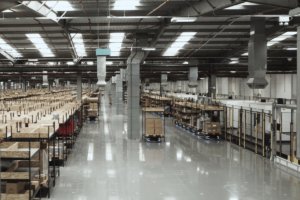 This investment is part of a deliberate strategic move by Next to use automated technology as a means of increasing its picking capacity. According to its annual report published in January 2023, Next's total capital expenditure on warehousing and technology for 2022 was £170m and it expects to have spent a further £130m by January 2024.
Next has drastically increased in technology investment in the past few years. The total capital expenditure for 2019 was just £9m, rising each year to the current level of more than £50m in annual spending.
The brand has just under 7 million online customers in the UK as of January 2023. Last year, it generated more than £3bn in online sales, compared to £1.8bn in retail sales. The rise in demand for e-commerce, particularly since the outbreak of the pandemic, has led many companies to develop their e-fulfilment solutions, be it through opening new facilities or increasing investment in warehouse automation.
E-fulfilment pressures are particularly important for Next to stay on top of as the retailer offers next day delivery to home or store. Geek+ says that the introduction of its robots within the Dearne Valley Pallet facility has aided in Next's efforts to fulfil the promise of next day deliveries by allowing the cut-off time to be pushed from 6pm to 10pm.
Supporting e-commerce operations in this way is key to Next's growth strategies, with 'physical infrastructure' (including warehouses and transport fleets) listed in its annual report as one of its core assets to deliver further growth.