British robotic kitchen systems developer Karakuri has introduced its certification programme for third-party restaurant software, products, and services.
In an industry-first, Karakuri – Robot Ready certification will ensure quick service and fast casual restaurants along with its business and industry operators can use their existing software with Karakuri's smart kitchen robotic systems.
The certification is designed to enable rapid, seamless integration of Karakuri's smart robotic kitchens with the existing ecosystem of EPOS, kitchen display systems, and kitchen management systems used within the industry.
Karakuri added that Robot Ready enables restaurants to embrace automation at lower integration costs and timescales. This will allow Karakuri's customers to realise the performance benefits of kitchen automation and the maximum ROI.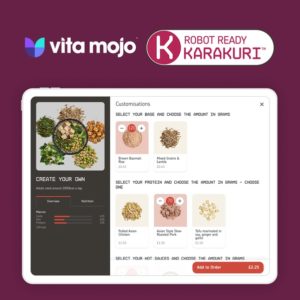 Vita Mojo, a digital ordering and restaurant management system who work with the likes of Nando's, YO!, LEON and Brewhouse & Kitchen, is the first to be accredited with the Karakuri – Robot Ready certification. Its ordering, EPOS and management software has been integrated with Karakuri's Semblr, the automated meal assembly system, currently in operation at Ocado's headquarters in Hatfield.
Barney Wragg, CEO and founder of Karakuri, said "Karakuri – Robot Ready is a major step in our journey of improving food quality and the kitchen workplace through automation and smart systems.
"The restaurant software ecosystem is complex and many of our customers rely on multiple solutions from multiple vendors to operate their businesses. As each restaurant is unique, we wanted to give reassurance to our customers that Karakuri's robotics will work with the systems they already have in place.
"Karakuri – Robot Ready is a guarantee of smooth integration in the same way Apple Homekit or Amazon's Works with Alexa assures consumers of device interoperability."