UK government-funded project Pipebots, which is working on robotic solutions that will help maintain pipe systems, has recently demonstrated its latest research into sensors and commination solutions for blockage detecting robots.
When the Engineering and Physical Sciences Research Council visited the research facilities, in Sheffield and Leeds this November, the team showcased it latest prototypes and acoustic sensing system.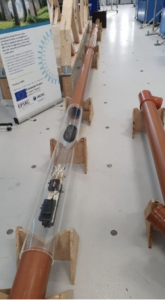 The acoustic sensing system on the robotic platform has been designed to measure the sound reflection from blockages and lateral connections. The system contains six microphones and a speaker at the centre of the cross-section of pipes.
In order to validate the experimental measurements, numerical simulation has also been used to assess the sound reflection coefficient from the blockages. The microphone array processing has been used to extract the plane wave mode over the frequency range 200-3kHz.
The team used the ultrasonic sensing system on the robotic platform to measure a blockage sample in the pipe, it trialled a range of different blockage sizes. From its results, with a combination of two sources and two receivers, the system could achieve blockage localisation and detection in the pipe.
This robotic ultrasonic blockage detection system, using Red Pitaya board with four 40kHz ultrasonic parking sensors, can record measurements at a short range of below 1m. While, the platform integrated with the acoustic sensing system is for multiple measurement purposes.
Additionally, the researchers are developing new electromagnetic acoustic transducer (EMAT) for excitation of ultrasonic guided waves in pipe structures. This includes the development of new algorithms for the measurement density, signal-to-noise and sensor number required for an optimal imaging in pipes.
Read more: An army of sewer robots could keep our pipes clean, but they'll need to learn to communicate