British retailer Pets at Home has partnered with warehouse solutions provider Invar Integration to maintain its automated zone-picking operation at its Northampton distribution centre.
The pet supplier had installed powered conveyors along with a series of carton elevators to transfer order-cartons over three floors of a mezzanine system. Auto-carton erection and sealing machines work in unison with pickers in a 24/7 operation to complete some 15,000 parcels a day, comprising orders across a 10,000 SKU product range, from 25kg bags of food to a range of pet accessories.
The recent installation has helped Pets at Home to deal with the online demand caused by the pandemic, but the retailer added the e-commerce demand put a greater emphasis to maintain performance.
Simon Phillips, general manager at Pets at Home, said: "Towards the end of 2019 we implemented our automated solution for e-commerce orders and then in early 2020 the pandemic suddenly struck, resulting in a huge shift to online sales.
"It was really fortuitous that we had made the decision to invest in automation when we did. That decision wasn't driven by capacity issues at the time, but subsequently it has allowed us to meet the phenomenal surge in demand resulting from lockdown.
"We have seen volumes through our online channel more than double over the last year, whilst at the same time the business is going through significant double-digit growth.
As a consequence, we soon realised that we needed to increase our engineering support rapidly to maintain performance."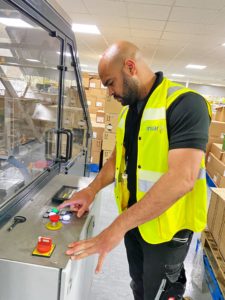 To address these challenges, Pets at Home selected warehouse automation company Invar Integration for an outsourced maintenance solution.
In the spring of 2020 Invar was engaged to provide a professional team of four on-site engineers with a remit to manage a 24/7, 364 day a year service, offering a planned preventative maintenance programme, immediate failure resolution, spare parts inventory management and further back-up support.
As online sales continued to surge, Invar Integration expanded the team to five by bringing on board a full-time onsite manager to co-ordinate resources.
Alex Moore, maintenance contract manager at Invar Integration, added: "It's an extremely busy warehouse. We have a full preventative maintenance schedule in place spanning 52 weeks of the year, involving in-depth checks across the system, identifying and replacing components close to failure, such as drive motors, rollers or worn drive bands. And this extends right across the entire system, including the carton erectors and packing machines.
"An important aspect of our work is the provision of spares – we plan what parts to hold in stock and manage the inventory, which is vital for ensuring maximum uptime of the system."
Furthermore, Invar Integration's IT systems are used to manage parts holding, directly linking into the planned preventative maintenance schedule.